A Covid Sketch Journal
A sketch journal now in the Victoria State Collection. Text and sketches pertaining to news and personal life during the Covid19 pandemic. To see my favourite pages click here.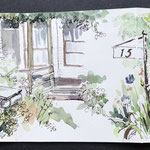 Berwick Hoddle Grid Project
Documenting in sketches buildings that are about to be demolished in the Berwick area. Click here for more.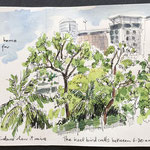 Personal Spaces
Documenting in sketches a family home in Singapore which was about to be demolished.
Click here for more.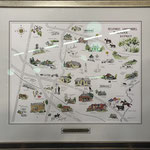 Historic Landmarks of Berwick District 
A hand drawn map of historic landmarks of Berwick district. Commissioned in 2019 by the Berwick Mechanics Institute and Lending Library, Victoria, Australia. Click here for photos.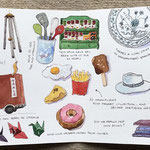 A Year in Casey County
A juried solo show, displayed at Bunjil Place Library, Melbourne, Australia as part of the 2018 Casey Art Spaces Program. It is a record of my personal observations and experiences as told in drawings and (a few) words while settling into a new neighbourhood on returning to live in Melbourne, Australia after 45 years abroad. Click here for more.
"Palmerston, Church & Peel", pen and watercolour, 40x40cms (framed), 2018. Exhibited in group show: "How's the Serenity, Backyard and Beyond", featuring Casey artists depicting their neighbourhood.  Bunjil Place Library, Melbourne, Australia.